Click on each region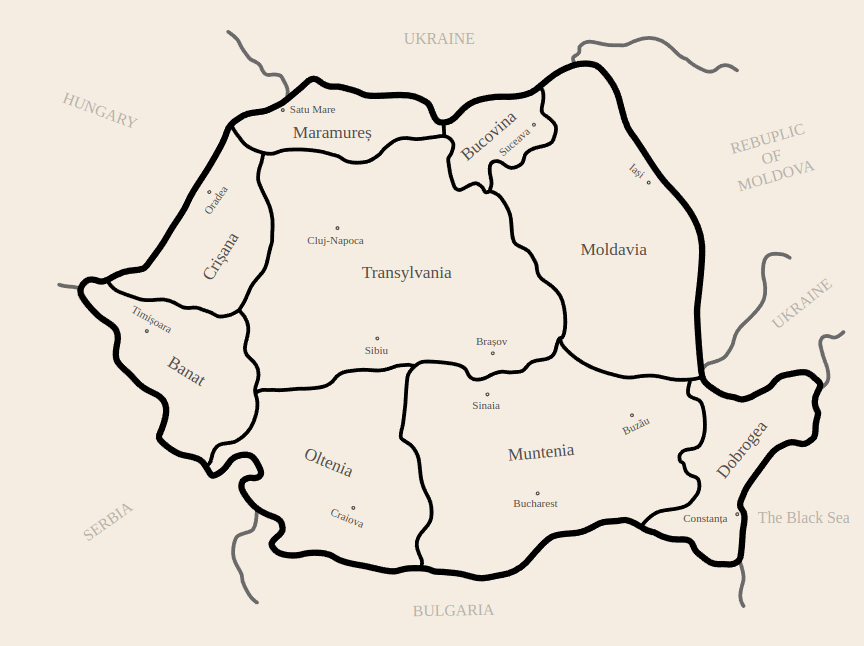 Crișana: In Search of "The Lost World"
Crișana in the northwestern part of Romania, is filled with natural caves, delicious red wines, Art Nouveau buildings, and renowned anti-aging treatment bath centers. The region promises experiences waiting to be discovered by those interested in less touristy but still captivating areas. Crișana's cultural heritage is vastly influenced by Hungary's historical control of the territory and political alliances, which have shaped the languages, traditions, and architecture.
The geographic landscapes are a mixture of rolling hills, dense forests, and crystalline rivers, allowing nature to show off its wonders. The Carpathian Mountains embrace Crișana, their majestic peaks reaching for the skies, with the highest summit, Cucurbăta Mare, rising to 1,849 meters. The rivers Crișul Repede (The Fast Criș), Crișul Alb (The White Criș), and Crișul Negru (The Black Criș) wind their way through the land, bringing life and beauty to their shores. The Apuseni Mountains have a great collection of caves. You can descend into the depths of the legendary Scărișoara Ice Cave to explore its gigantic ice formations, suspended in time like frozen chandeliers. The Lost World, one of Romania's most impressive karst regions, hides a spectacular 2,500-meter-long gallery of caves and crevasses.
In this stunning setting, historic cities pop up like cultural gems. Oradea is one of the most important economic and social centers in Western Romania. You'll be wowed by its architectural style: the Gothic spires pointing to the sky, the opulent palaces with intricate details, and the Art Nouveau masterpieces. The Black Eagle Palace and Baroque-style Bishop's Palace will captivate you with their charm.
Crișana also has an interesting musical heritage: the tulnic (cântatul la tulnic). The tulnic is a long wooden instrument resembling the alpenhorn, but with a straight end. Hundreds of years ago, it was used as a means of communication, as families lived far from each other. Each family had their own tulnic, which could sometimes be two meters long. It was used to create sounds and tunes for important social occasions, such as calling your loved one, going on the battlefield, or even milking the cows.
But no journey through Crișana would be complete without exploring its culinary delights: a fusion of traditional recipes and local ingredients with Hungarian influences. Sink your teeth into one of the most famous dishes, a flaky salty cheese pie (plăcintă pe lespede), which can be cooked on a fiery stone slab or fried on the stove. Made with locally sourced cheese, you can drizzle it with cranberry jam or add sugar on top.
Maramureș: Not Your Average Cemetery (and Much More)
Maramureș is the perfect place for a genuine travel experience: this region in the heart of northern Romania radiates authenticity. But while being off-the-beaten-path, it is better adapted to the traveler's needs than other non-touristy areas of the country.
Blessed with wavy landscapes, pristine valleys, and the Carpathian Mountains, you can also admire the Rodnei Mountains, home to the highest peak in the Eastern Carpathians, Pietrosul Rodnei, at 2,303 meters high. Hike trails that snake through the forests, treating you to panoramic vistas and a sense of peace. The region is also adorned with crystal-clear rivers like the Iza and Tisa, where you can go fishing and canoeing.
We recommend venturing into the villages, where time seems to stand still. You will find people mowing grass, arranging it to form haystacks, and carts pulled by horses. Stay a few nights in Breb, a village where well-preserved houses fill the landscape, offering a glimpse into the region's architectural heritage. Engage with the locals, known for their warm hospitality and willingness to share their stories. The region has rich folklore, with skilled artisans keeping old traditions such as wood-crafting, embroidering or weaving alive. Take home a piece of Maramureș's identity to support local craftsmen and preserve these age-old customs.
Visit Săpânța, a village famous for its "Merry Cemetery" (Cimitirul Vesel) with colorful tombstones and whimsical epitaphs telling tales of the departed. An example is: "Below this heavy cross/ Lies my poor old mother-in-law/ If she'd lived another three days/ I'd be lying here and she'd be reading this!"
If you're a history enthusiast, you'll be amazed by the UNESCO-listed wooden churches in Maramureș – the famous Bârsana or Surdești, with their wooden carvings and vibrant frescoes, are architectural marvels. Visit the lesser-known Wooden Church (Biserica de lemn) Sf. Paraschiva from Deseşti. It is a peaceful, charming little temple with floor carpets and intriguing naive art paintings. Inside, you can walk up a few stairs to reach an inner balcony and admire the inside from a different angle.
Maramureș also boasts an incredible culinary heritage. A local specialty is caraway soup, a simple but flavorful dish served with hearty stews and succulent grilled meats. The region is also renowned for the unique flavors of the sweet and aromatic răchie (plum brandy).
Bucovina: Eggs-ploring Monastery Tales
Moving towards the northeast, we arrive in a historical region that used to be part of the Austrian Empire. Now divided between two areas, one in Romania and the other in Ukraine, this living puzzle mixes nature's beauty, spirituality, and cultural richness.
The name "Bucovina" comes from the Slavic word buk (beech tree), because of its abundant forests with diverse flora and fauna. If you are passionate about nature, Bucovina offers a playground of adventure. Here, you can spot many species of trees, wildflowers and protected animals, such as the raven. Explore the forests, where trails through ancient trees will lead you to hidden waterfalls and streams. Go on a hike in Ceahlău National Park, home to the impressive Ceahlău Massif, the "Romanian Olympus."
Bucovina is known for its painted Eggs. At The Painted Eggs Museum in Vama, you can see over 10,000 eggs adorned with different Romanian motifs, such as tree branches and crosses, with vivid blues, shimmering golds, and deep reds.
Beautiful old monasteries have withstood the test of time. We recommend visiting Voroneț, Sucevița, Moldovița, and Humor, most of which were built between the 15th and the 16th centuries. As you walk into their hallowed halls, the aroma of burning incense flowing in the air, your eyes will be drawn to the beautifully painted walls and ceilings, describing religious scenes.
Apart from the monasteries, Bucovina's villages offer a glimpse into a simpler way of life. You will find freshly baked bread and traditional dishes: the iconic ciorbă rădăuțeană (a chicken soup with sour cream), the puffy cozonac (a type of sweet bread filled with cacao, nuts and Turkish delight), or the aromatic plăcinte (pastries filled with seasonal fruits).
Moldavia: a Place to 'Wine' Down
Moldavia has witnessed the rise and fall of empires and served as a crossroads of cultures. Its western part is in Romania; its eastern side belongs to the Republic of Moldova; and its northern and southeastern corners are part of Ukraine.
Within Romania's regions, Moldavia's cities are like open-air museums. Iași, once the capital of Moldova, is worth a visit. Don't miss the iconic Palace of Culture (a symbol of the city) while going on a walk through the fancy streets of the Copou area – where many important Romanian authors found their inspiration. Due to its great literary heritage, Iași hosts an annual Festival of Literature and Translation (FILIT), one of the largest literary festivals in Europe. FILIT offers dozens of events, from meetings with prominent international writers to music and poetry nights, workshops, and readings.
In Suceava, you can dive into the medieval era at the Citadel, an impressive fortress that guarded the northern borders. Explore Bacău, known for its charming squares, bustling markets, and vibrant arts scene. Or discover Piatra Neamț, at the foothills of the Carpathian Mountains, a gateway to the breathtaking landscapes of the Ceahlău National Park.
Regarding food, we recommend trying the famous sarmale (cabbage rolls stuffed with a flavorful mix of minced meat and rice) combined with mămăligă (polenta), a comforting cornmeal dish served with various toppings. And you can't leave Moldavia without trying their wines. Wine is part of the Moldavian culture: it is common for families to grow grapes and make wine. In addition to well-established wineries, artisanal wine shops are quickly catching up. The region's vineyards produce a variety of quality grapes. These include international varietals, such as Pinot Noir and Merlot, but also traditional Moldavian grapes, such as the renowned Fetească Neagră and Fetească Albă. Moldavian wines win hundreds of international awards each year. Our favorite wine selections from the region are from Crama Girboiu and Domeniile Panciu wineries.
Moldavia's countryside is a paradise for outdoor lovers, with hiking trails, lakes, and waterfalls. Immerse yourself in the Bicaz Gorges, where massive limestone cliffs rise above the waters. For a real adventure, explore the forests of the Vânători-Neamț Natural Park, where you might spot the majestic European bison.
Historically, this region holds one of Europe's oldest civilizations: the Cucuteni. In the Cucuteni region, excavated sites reveal the Neolithic culture from c. 5500 to 2750 BCE, preceding settlements in Ancient Egypt. The Cucuteni culture was famously known for beautifully decorated ceramics and painted vessels. They extracted salt by boiling spring water in large ceramic vessels to supplement salt into their diets, making Poiana Slatinei, one of the earliest salt work sites in the world.
Transylvania: More Than Just Dracula's Castle
This land has seen it all – from the Dacians and Romans to the Saxons and Hungarians, Transylvania has been shaped by a mosaic of civilizations, each leaving its important mark.
Of course, you can explore "Dracula's Castle" (Bran Castle). But there is much more to see and less touristy places to discover. To better immerse in Transylvania's countryside, we recommend you get a car and stay at the many rustic hotels well catered to foreigners. Transylvania boasts an impressive and rich natural landscape. You can also explore many national parks for camping, hiking, biking, winter sports, and wildlife watching. The region's forests are a haven for rare and protected species, such as the European brown bear and the elusive lynx. We suggest you visit Șinca Secular Forest, part of a larger UNESCO World Heritage site that preserves ancient and primeval beech forests, along with the nearby charming Șinca Nouă village. We also recommend visiting Romania's only volcanic lake, Saint Anne, during the fall season for a breathtaking view.
You will feel the Saxon influence throughout the entire region in villages and larger cities. For a more rural experience, you can visit the well-known Viscri village and lesser-known Prejmer and Biertan villages. Biertan, for instance, is charming and dates back to the 13th century, when Saxons from the West decided to settle here and defend the land from the Ottoman Empire.
We recommend visiting Sibiu, Cluj-Napoca, Sighișoara, and Brașov. These cities have an up-and-coming spirit, colorful buildings, and cobblestone alleys with restaurants and coffee shops. Sibiu, a beautiful medieval town, has iconic houses with unique dormers resembling gazing eyes. The city hosts an annual international theater festival called FITS, one of Romania's most relevant theater and performing arts festivals, with guests and performers coming from more than 70 countries. Cluj-Napoca is Transylvania's biggest city and has the country's highest ratio of students to number of residents, making it one of the most culturally vibrant cities. It attracts young people from all over the country and abroad to study, work, or simply have fun. Cluj-Napoca (and its surrounding) holds important music festivals (Electric Castle, Untold, Jazz in the Park, Smida Jazz Festival) and is also the birthplace of the acclaimed Transylvania International Film Festival (TIFF). But while the city attracts crowds during festival seasons, it is known to be quiet.
Transylvania's food scene is a result of its multicultural past. Try the tasty ciorbă de tarhon (tarragon soup) or dig into the mouthwatering pork stews. Pair these dishes with a glass of local wine or a sip of țuică (plum brandy). One of the region's most delicious street foods of Hungarian descent is the kürtőskalác: a sweet dough that can be covered with a variety of toppings (think: cinnamon or grounded walnuts). It fills your mouth with pure joy.
Banat: "Little Vienna" under Big Lights
This region in the southwestern corner of Romania offers cultural, ethnic, and linguistic diversity. While traveling through Banat, you will find echoes from the past in the ancient Roman settlements and medieval fortresses scattered through its plains, hills, and mountains.
Bounded by major rivers (the Danube and the Mureș), this region has always been rich in settlements due to its fertile land, which naturally led to a cultural boom from early on. Timișoara – known as "Little Vienna" for its epic architecture and cultural scene – was the first city in Europe to receive electric street lighting and tram infrastructure. (Fun fact: in 2023, Timișoara was nominated as the European capital of culture, along with Veszprém, in Hungary, and Elefsina, in Greece).
There are plenty of places to explore in Banat if you love nature. Go on an adventure through the Semenic-Cheile Carașului National Park. Lose yourself in the fascinating landscapes of the Iron Gates, which guard 134 kilometers of the Danube River. Go for a hike through the Cheile Nerei-Beușnița National Park. Enjoy water sports at Lake Surduc or horseback riding in the Banat Mountains. Keep a keen eye out for deers, wild boars, and the majestic golden eagle that can be spotted roaming free in the area.
Don't miss out on the region's famous ștrudel cu mere (apple strudel) or the stuffed onions with olives and walnuts dipped into a sweet tomato sauce, which is very characteristic of the region. Grab a glass of the renowned Recaș wine made from grapes grown in the vineyards that dot the countryside.
Oltenia: Fancy a Sculptural Getaway?
Picture this: rolling hills covered in vineyards; valleys brimming with life; rivers snaking across the mountains, with impressive cliffs dominating the horizon. Head over to Oltenia, in southwestern Romania, where the Carpathian Mountains meet wide-open plains. Roman legions and medieval rulers made their mark here. And it is here too that you can discover the iconic sculptures of Constantin Brâncuși, a pioneer of modernism – and one of the most famous local artists that took over the world with his artistry.
You can't miss the mighty fortress of Târgu Jiu, adorned with iconic Brâncuși's sculptures. His works include the famous Endless Column and The Table of Silence, which still impress visitors with their simple yet moving presence.
Craiova, the region's capital, has an elegant vibe, architecture and lively atmosphere. Discover the city's landmarks, like the Craiova Art Museum and the Nicolae Romanescu Park.
If you visit the countryside, go explore the Retezat National Park, where you can find glacial lakes. Wander through the enchanting Cozia National Park, with its ancient forests and rocky gorges. And if you're a birdwatcher, you'll love the Vâlcea County wetlands.
Another important attraction of Oltenia is the Polovragi Cave (Peștera Polovragi), known as the house of Zamolxes, the most important god of the Geto-Dacian. The Geto-Dacian was an Indo-European population that used to live in this area.
When it comes to culinary experiences, you can try local dishes such as saramură (a saucy stew made with fish on the grill or fried chicken with tomatoes and lots of garlic) or anything with leeks, a core vegetable here. Oltenia's cuisine is known for its grilled meats, sausages, and stews. Pair your meal with a glass of the robust red wines of Drăgășani or the aromatic whites of Segarcea.
Muntenia: Beyond Bucharest's Best
Muntenia is the second biggest historical region of the country after Transylvania. Romania's capital city, Bucharest, is located here. The eclectic blend of architectural styles you will discover here, from Belle Époque buildings to the Communist-era gray blocks, tells the story of its tumultuous past. The city is rough around the edges but alive, with up-and-coming coffee shops, art galleries, parties, and many parks. Bucharest has become more culturally and ethnically diverse due to the rise of foreign investment and migrant workers over the last decade. Therefore, you can find and enjoy numerous ethnic restaurants and a greater feeling of diversity compared to other Romanian cities.
Beyond Bucharest, Muntenia offers other cities and attractions to explore. Târgoviște, located 80 kilometers northwest of Bucharest, is the former capital of Wallachia (Țara Românească). Visit the Princely Court (Curtea Domnească) and learn how the region  gained independence from the Austro-Hungarian Empire in the 14th century, becoming a principality. Soon after, Muntenia was forced to be under the Ottoman Empire until 1859, when it united with Moldova and formed The Romanian Old Kingdom. 
Continue your travels to Curtea de Argeș, home to the stunning Curtea de Argeș Monastery, a masterpiece of Byzantine architecture. Visit the charming town of Sinaia, in the Carpathian Mountains, where you can explore Peleș Castle at its center, built by the first King of Romania, Carol I of Hohenzollern. Sinaia is considered one of the best winter destinations in the country, offering 16 slopes for skiing and other sports.
Stretching from the Romanian Plain to the Carpathian Mountains, the region offers a range of landscapes to explore. In the countryside, go on road trips in the hills of Prahova Valley, with its vineyards and orchards spreading across the hillsides, and go for hikes in the Bucegi Mountains. The waters of the Danube River flow through the region, connecting Muntenia with the rest of Europe. Explore protected areas, like the Păltiniș Nature Reserve, where wildflower meadows and dense forests create a wildlife haven. In Lake Snagov, near Bucharest, you'll be surrounded by lush vegetation.
Want to try some local cuisine? We recommend mămăligă cu brânză și smântână (polenta with cheese and sour cream) and ciulama de pui (a chicken stew infused with aromatic herbs). Compared to other regions, but not as much as Dobrogea, Muntenia's culinary scene is influenced by its proximity to the Danube River, offering delicious fresh fish dishes cooked with local herbs.
Dobrogea: Take a Walk on the Wild Side
Multiculturality meets nature in Dobrogea. Bordered by the Black Sea to the east and the Danube River to the west, you can experience the footprint of various ethnic groups, from Turks and Tatars, to Lipovans, Bulgarians, Ukrainians, and Aromanians.
The true beauty of the region lies in the Danube Delta. It is a national park and a UNESCO World Heritage site filled with biodiversity. It is also Europe's best preserved and largest remaining natural wetland. You can cruise through its labyrinthine channels, a bird watcher's paradise hosting over 300 bird species. The Macin Mountains, the oldest mountain range in the country, are home to unique flora and fauna, including the European wildcat and the Lady's Slipper orchid. The Danube Delta is one of Europe's least humanly populated regions, allowing nature to thrive. Locals mostly live off of fishing, tourism, and local crafts.
But Dobrogea has witnessed many waves of colonization, starting with the Greeks and Romans, followed by the Persians, Turks, Tatars, and Russians, all of which shaped and formed its cities. In Constanța, explore the Casino building, standing proudly on the seafront, and the archaeological treasures of the Roman Mosaic Edifice. Visit the Great Mosque, an example of Ottoman architecture, and wander through the historic streets of the old town. The town of Mangalia is renowned for its therapeutic mud baths and ancient ruins. And don't miss Histria, one of the oldest settlements in Romania, with remains of ancient Greek and Roman civilizations.
Regarding food, we suggest you try everything the local cuisine has to offer fresh from the river and sea: the plachie (a flavorful fish stew cooked in a clay pot), the borș de pește (a tangy fish soup), and mussels and sea snails with lots of garlic.